Did you hear? We have launched our 
Spring | Summer Body Bundle
 once again! Between the three products, this collection is packed with botanical adaptive ingredients to support your skin at this time of year:
Never tried an oil before? Read on to hear why you might want to!
 Through a rich lather, feel the grains of pink Himalayan salt from the Exfoliating Bar working to brighten and polish your skin. Envelop yourself in the energizing and uplifting aroma of peppermint, lavender and sweet orange. Enjoy effortlessly smoother skin, one shower at a time. 
 The Moisturising Bar is infused with handpicked local botanicals including yarrow, rosehip and dandelion are and naturally detoxifying pink clay works to gently nourish your skin through the driest of times. Lather up and envelop yourself in the uplifting scent of geranium and grapefruit. Turn your everyday shower into something special. 
 ____________________________
So why the Spring | Summer Bath & Body Oil?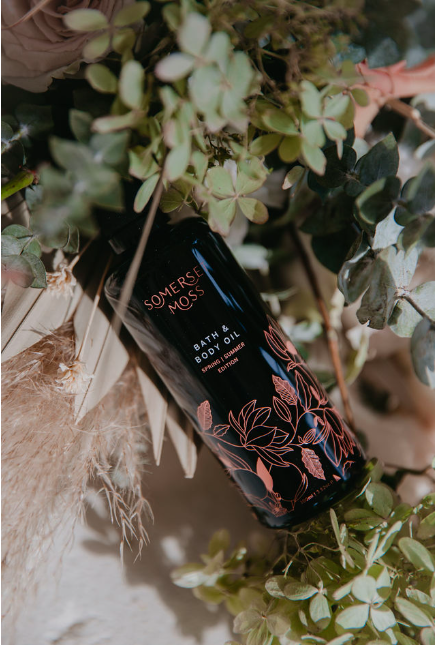 Did you know that water makes up two thirds of a typical body lotion?
Chemicals are needed to bind together the water with the other ingredients and to create a fragrance. Parabens and (often allergenic) preservatives are added to slow down bacteria growth in the water.
Using the Spring | Summer Bath & Body Oil skips the water, leaving only rich botanical ingredients to work their magic. So stop paying for this extra water and instead, ditch the towel! Deliciously damp skin from your bath/shower will beautifully absorb the Oil, allowing for a present, mindful application process as you slow down, massage, and connect with your body. 
Allow any anxiety to melt away...
...as 
you embrace the stillness and sensuality of the 
moment.
Active ingredients like may chang, daikon and radish deliver a powerful punch of antioxidants straight to your skin, working to reduce inflammation and encourage the skin's natural barrier to rebalance. Essential oils including linden blossom, jasmine and cedarwood support the calming of the skin and spearmint activates a cool, tingling sensation.
All that's left to do is...
..inhale deeply and relax.
PRO TIPS:
Combine the moisturising Oil with Somerset Moss Facial Balm for max hydration and to repair skin after summer days in the sunshine (they're coming - we promise!). 
Pour a tablespoon of the oil into the tub and experience how Somerset Moss rejuvenates your skin and your mood. The uplifting scent lingers long after use, along with a bright, fresh feeling.
Invite botanical simplicity into your daily routine without compromising on luxury.